PerfectNotes

®

software. Get everything there is to get from every class you go to.
PerfectNotes® turns the classes you attend into the A-Grades you deserve.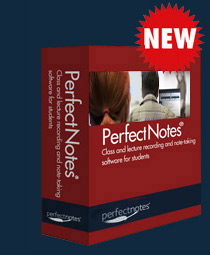 By cross-linking
a real-time sound recording of each class with
a visual timeline you can bookmark at key moments and
written notes you type as you go
PerfectNotes®
ensures you leave every class with a dynamic and grade-raising record of what you heard, what you thought and... just as important...what you missed.
PerfectNotes® software—A lecture recording and note taking tool for great grades.
Track back through your recording and your notes then and there...at home that night ...or weeks later when you're reviewing for exams.

With PerfectNotes®, the class is there for you again whenever you need it... guaranteeing you Perfect understanding.
Follow our blog for updates, answers, etc.
Read our current press release: Revolutionary Tool Helps Students Fight for Jobs